Shopping Cart
Your Cart is Empty
There was an error with PayPal
Click here to try again
Thank you for your business!
You should be receiving an order confirmation from Paypal shortly.
Exit Shopping Cart
If the shoe fits, by all means wear it. But how do you know it's going to fit if you buy it online?
Many Web customers have experienced the disappointment of buying shoes online to later realize that the fit is all wrong. Although All generally have faith in their manufacturers' sizing recommendations, we also know that with all the different brands and factories out there, the shoes on offer might run a little larger or smaller than the manufacturer suggests. If customers know this, they stand a better chance of keeping that pair they bought online and everyone "walks away" happy.
How can you be sure the shoes or boots you buy will fit you? Read on. This shoe-sizing guide will teach you a bit more about how shoes are made, how to measure your feet and how to ensure your shoe-shopping experience is a positive one.
Glossary: The Parts of a Shoe
Before diving into our shoe sizing guide, it helps to know a little footwear terminology. Almost every shoe or boot is constructed with four major components, which we usually refer to in the description of each style.
UPPER
The upper is the visible outer covering of the entire top of the shoe or boot above the sole, designed for visual appeal and the proper level of protection. It is usually made from leather or synthetic fabrics.
INSOLE
The insole is the soft inner layer of a shoe that contacts the bottom of the foot. Designed to cushion the foot or wick sweat, the insole may also be referred to as the "footbed."
SHANK
A shank is found only in footwear that requires more foot stability, such as work boots and backpacking boots. This stiff piece is usually made of either nylon or steel.
MIDSOLE
Between the insole and outsole, the midsole is usually a thick, spongy layer designed to cushion or provide extra stability. It is often made of shock-absorbing EVA (ethyl vinyl acetate) in athletic shoes or more durable but less-cushioning polyurethane in work boots and backpacking boots.
OUTSOLE
The outsole is the bottom part of a shoe that actually contacts the ground. This layer can range from lugged rubber on a hiking boot to thick, smooth leather in a dress shoe.
How a Shoe is Built
Before you can understand why one pair of size 8's does not fit like all other size 8's, you have to understand how a shoe is built. Most shoes are mass-produced in factories all over the world, where different workers using different equipment work on different shoe styles. In fact, some footwear requires over 100 different production steps for completion. The result is that a size 8 running shoe from factory A may not actually end up being exactly the same size as a size 8 dress shoe from factory B.
Here's a very brief rundown on the steps manufacturers take to mass-produce shoes or boots in a factory. The process is similar with handcrafted shoes, except there is more attention to detail and no automation:
• Machines stamp 3-D shapes into sheets of fabric ranging from suede leather to synthetic mesh.
• Next, these fabric pieces are "cookie-cut" and marked or labeled to guide the stitching process.
• The fabric pieces are then stitched or cemented together to form the shoe upper. After this step, the "shoe" still just looks like a rounded piece of fabric.
• An insole is stitched into the lower sides of the upper and an insole board is inserted into the developing shoe.
• The shoe fabric is shaped around the appropriately sized "last," which is a mold (usually plastic) that forms the final shape of the shoe. A machine forces the upper down over the last for a tight fit. The shape of the finished shoe is apparent at this stage.
• Pre-cut forms of the midsole and outsole are layered together and cemented to the upper.
• The finished shoe is removed from the last and inspected for defects.
As you can see from this process, the exact size and shape of the last is largely responsible for the final shape of a shoe. A size 10 last at one factory may provide a slightly different fit than a size 10 last at another factory.
How to Determine Your Best Shoe Size
Unless you're a 10-year-old who's starting to outgrow your last pair of shoes, you probably already know your exact shoe size. But even when you reach adulthood, your feet actually continue to grow larger and flatten out through the course of your lifetime. So it doesn't hurt to re-measure... you might have grown a half-size or more! It's very important to measure the width of your foot, too, since you can't try on shoes in advance when buying online.
A Brannock Foot-Measuring Device®, that funny metal instrument in shoe stores that looks like a combination between a ruler and a medieval torture device, is designed to measure the length and width of your foot to determine your optimal shoe size. This device is usually only used on children whose feet are still growing, since kids' shoe sizes change so rapidly. Yet adults need to occasionally double-check their own foot sizes.

Many shoe stores now leave a Brannock Device® available on the floor for customer use, so the next time you see one lying around take a few minutes to verify the length and width of your feet.
For online printable versions of the Brannock, click these links WOMENS | MENS | KIDS.
Here's how to use this measuring tool:
• Remove your shoes but be sure to leave on a pair of fitted socks.
• Heel-to-Toe Length: While standing up or sitting down with your feet parallel to the floor, place one heel firmly against the appropriately labeled end of the device.
• Record the size indicated at the tip of your longest toe (the longest point of your foot).
• Arch Length: Place your thumb on the ball joint of the foot (the inside part of your foot where your big toe meets your foot) and slide the arch-length pointer to where it is centered on the protruding ball joint of your foot. Record this size also (it may be different than your overall foot size, and is very important since shoe sizes are generally built based around heel-to-ball length).
• Width: Slide the width bar against your foot and record your foot width (ranges from 3A to 3E). This is done by locating your shoe size on the moveable width bar and matching it up with the corresponding width measure.
• Men have a medium width of D, a narrow width of B, a wide width of E and an x-wide width of 3E.
• Women have a medium width of B, a narrow width of A, a wide width of D and an x-wide width of EE.
• If the size falls between two widths, choose a wider width for a thick foot, a narrower width for a thin foot.
• Now that you've got all three measurements (heel-to-toe length, arch length and width), compare the arch length to the heel-to-toe length. Choose the larger of the two measurements as the correct shoe size for your foot.
• Repeat entire measuring process for your other foot, but remember to rotate the Brannock device 180 degrees first. Very few people have feet that exactly match one another, and you need to buy shoes based on your larger foot size.
The reason you want to measure your foot length two different ways is that your best shoe size is probably the longer of your total foot length and arch length. Also, it's good to know your foot width.
For men, D is a "medium width." For women, B is considered a "medium width." Higher letters indicate a wider foot and lower letters a narrower one. Men have a medium width of D, a narrow width of B, a wide width of E and an x-wide width of 3E and up. Women have a medium width of B, a narrow width of A, a wide width of D and an x-wide width of 2E and up.
Despite the usefulness of a Brannock Foot-Measuring Device®, realize that whatever shoe size feels best is best. If the Brannock says you're a size 11 D, but you like the feel of a size 12 E, go with the 12 E.
Foreign to U.S. Conversions
When converting a foreign shoe size to your own shoe size, there are general conversion standards than can be applied. For example, you may have heard that compared to U.S. shoe sizes, United Kingdom sizes are one size smaller. Or that when converting Euro sizes to U.S. sizes, the rule of thumb is to subtract 34 for men or 31 for women. For example, you may think a women's Euro Size 40 would be a U.S. Size 9 (Euro 40 - 31 = U.S. 9).
These rules should not necessarily be applied when buying a pair of shoes online. Nor should you generalize based on previous shoes you have bought. Even if you bought a pair of Euro Size 38 shoes before and they fit, the next size 38 shoes may not (even if they come from the same manufacturer). There are many possible reasons, including brand-specific standards, style anomalies and specific factory standards.
The Break-In Myth
You may have to walk a mile in a man's moccasins before you can judge him, but you don't have to walk nearly that far to judge a new pair of shoes. Despite the common belief that new shoes won't fit right until they've been worn several times and "broken in," only heavy-duty hiking and work boots actually need to be broken in. Most shoes don't significantly stretch out over time, so they need to offer comfort and fit right out of the box.
If you try on a pair of shoes and find them uncomfortable or notice any discomfort zones when just walking around the room, the odds are you have the wrong size or shoes that are incompatible with your feet. Don't waste your time with shoes like these - simply don't buy them (or return them if you have already bought them). Again, this does not necessarily apply to rugged hiking boots or work boots, which usually do have a short break-in period. Even these boots should fit perfectly after being worn for several days, though.
Fit Tips
• Be aware your feet are different sizes. Go with the larger foot when selecting a shoe size.
• Try on shoes in the afternoon or evening when your feet have flattened out and are their largest.
• You may want to go up at least a half-size in running and hiking shoes, to prevent bruised toenails from crowding at the front.
• Be sure to wear the appropriate type of socks with every pair of shoes or boots, and use these when trying shoes on.
• Try different lacing methods for an optimal fit if you have a narrow heel, extra-high arch, etc. (see diagrams below).
Lace-Up Techniques
Even with a perfectly sized pair of shoes, you may not have a truly perfect fit. Creative lacing is one simple way to adjust shoe fit to prevent heel slippage, secure overall fit, or accommodate a wider forefoot. Here are several lacing suggestions to custom-fit your shoes: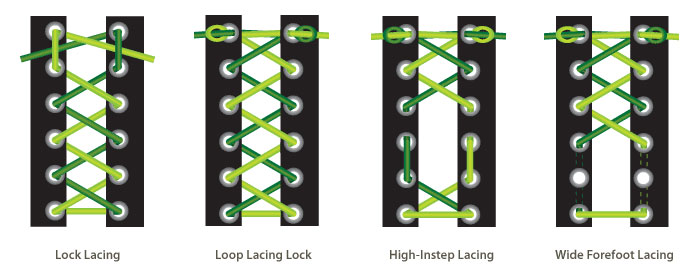 LOCK LACING FOR HEEL SLIPPAGE
If you experience heel slippage, lock lacing will help. Lace the shoe normally until the lace ends emerge from the second set of eyelets. Then feed the laces up each side and into the top eyelet towards the foot. Now cross laces over, and feed each under the vertical section of the other side. Pull and tie normally.
LOOP LACING LOCK
This method of lacing is great to ensure a secure fit for any running shoe. After lacing, put each lace end back through the last hole to create a small loop on the top side of the shoe. Thread each loose end through the loop on the opposite side, pull and tie to create a tight closure.
HIGH-INSTEP LACING
If you have a high instep, this lacing technique might make you more comfortable. Start with normal lacing at the bottom, then feed the laces up each side of the shoe and cease to criss-cross. Once at the top, continue the criss-cross technique and tie for a secure closure.
WIDE FOREFOOT LACING
If you have a wide forefoot, consider buying shoes especially designed for this issue. You can also try this simple technique. Begin by feeding the laces up each side of the shoe and only use the criss-crossing technique towards the top. Tie for a secure closure.
Categories: None
/